My name is Luke Davis and Shakey Graves is why I'm going to school for music. I grew up in Clinton New Jersey, about an hour north from William Paterson. I went to North Hunterdon High school and was very involved with the orchestra as well as marching band as a percussionist. Now twenty, I am a sophomore at William Paterson and am a Popular Music Major. Interestingly enough, even though drumming has consumed most of my time here I didn't commit with the intent to really focus on drums much again. I wanted to be a singer songwriter, and still do! But having ran into many opportunities due to being so involved with drums in the past, my songwriter has slowed down since. I committed to William Paterson for to improve myself as an overall artist.
Shakey Graves is why I am here.
One of the biggest reasons why I went to William Paterson was because of an artist by the name of Shakey Graves. He is without a doubt my biggest musical inspiration. He was more important to me then Led Zeppelin, the Strokes, Queen… all because he inspired me to reach out of my comfort zone and start singing and playing guitar. Being an artist from Austin Texas, Shakey Graves, or as some would call Alejandro Rose-Garcia, is a blues/rock/country songwriter that sings, plays guitar, and keeps time with a bass drum and tambourine all at the same time.
He got his title during a campout with friends. All creating silly American Indian guide names inspired by a wondering-acid-tripping stranger, they came up with the name "Shakey Graves". I remember still only playing drums sophomore year and seeing him playing a small acoustic set for Audiotree on YouTube becoming an instant fan. I have never really liked country, not saying this would be considered that genre it opened me up to new avenues of music.
Avidly watching his career grow, I practiced my new-found love of singing and playing guitar. I learned singing and guitar by ear, slowly writing my own music while looking up guitar tabs and belting tunes in the car. By junior year I auditioned for show choir through the departments encouragement and made it in. Building my confidence I started to think of the idea of going to college for music. Seeing Shakeys' career build and how talented he was drove me to become better as a musician and expand my instruments and my taste in music.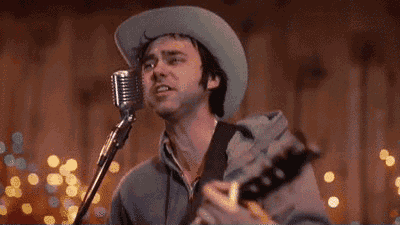 He is so inspiring to me because he was able to make a one man band, by just using acoustic instruments. He found a way to stand above the crowd, being one of the hardest things for an artist to do when the music industry is so saturated. I would not be going to William Paterson and majoring in music if it wasn't for this man. Potentially focusing on my classical percussion training or studying a major that would guarantee me a good job, but not true happiness. Because of Shakey I pursued singing and playing guitar, ultimately making me more marketable and widening my interest in more than just a performance degree. He also inspired me to become a performing artist, not just a teacher or even a session player, but to create my own music.
Looking for a degree to fit my needs, William Paterson seemed to fall right into my lap, a college I never even heard of. Now being here I couldn't be happier. now in two respected/committed bands, I can't believe how far I've come in my pursuits. I still haven't seen Shakey Graves live, I hope to soon and with that be able to thank the man for all that he's done for me. He doesn't write music to fit into a niche. His natural art attracts ears and is appreciated through many. Seeing someone be successful like that gives me hope that the same can happen for someone like myself. Shakey Graves is why I am here and why I will continue to do what I love.